Rebecca Irwin, LSW - 1/30/2019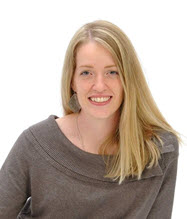 Rebecca Irwin is a native Ohio resident originally from Oxford, Ohio; Rebecca attended the University of Cincinnati earning Bachelor of Arts degree in Psychology and a commission through the Army Reserve Officers' Training Corps in 2005. After serving as a Captain in the U.S. Army, she and her family relocated back to Cincinnati and she earned a Master of Social Work degree from Northern Kentucky University in 2013. Rebecca has specific professional interests in the areas of Cognitive Behavioral Therapy, Strengths Based Therapy, Mindfulness Based Stress Reduction, research in neuroplasticity and the impacts of meditation on brain function, emotional regulation and the immune system. Rebecca is inspired by the mission of Cancer Support Community, serving families impacted by cancer. Rebecca enjoys spending time with her husband of almost 20 years, her two children Benjamin and Isabell, multiple modes of artistry, and is always looking for her next adventure with her family.
Contact Information:
Rebecca Irwin, LSW
Clinical Group Facilitator & Urology Program Manage
Cancer Support Community
(513) 791-4060
4918 Cooper Road
Cincinnati, Ohio 45242
www.cancersupportcincinnati.org
Talking points:
Cancer Support Community Program overview, What's in it for you?
Your personalized support plan
Resource matching and referrals
Individual Counseling
Decisional Counseling, why it might help.